Director:  Mia Hansen-Løve
Stars:  Léa Seydoux, Melvil Poupaud, Pascal Greggory
When I think of the eighth film from Mia Hansen-Løve, I think – perhaps strangely – of an escalator in a shopping mall. Two travellators side-by-side moving in opposite directions to one another, yet part of a complete unit. Hansen-Løve's movies have a habit of bisecting in some way. The two halves of her stunning debut All is Forgiven. The before and after of The Father of my Children. The inner and outer worlds of Bergman Island. With One Fine Morning the split narrative occurs within one storyline; as one half of Sandra Kienzler's (Léa Seydoux) life becomes enveloped with a terminal decline, the other half sees a furtive new romance emerging. Neither direction is entirely smooth. The machine falters and starts, reverses and resumes. But they operate in tandem, in some ways reliant on one another.
Sandra works as a translator in Paris. The daughter of beloved philosophy professor Georg Kienzler (Pascal Greggory), she braces for a tough journey watching her father's depletion thanks to Benson's Syndrome, a neurodegenerative disease that robs him of his ability to read, and then more rapidly his sense of place in the world. The heartache here is twofold. Sandra's livelihood is in communication, but her ability to converse with and understand her father is being decimated. While for Georg – a man whose shelves are stuffed with volumes of books organised by colour – the great joy of his life has been made obscure to him.
Along with Georg's diligent ex-wife Françoise (Nicole Garcia), Sandra oversees her father's transition through a number of revolving door assisted living facilities. While none of these institutions are painted as anything other than professional, Hansen-Løve exposes their drab, depersonalised interiors. Anyone with a love of books or other physical media will feel a surge of love and connectivity during the scenes in which Georg's significant home library is disassembled. In an exquisite scene, Sandra explains to her daughter Linn (Camille Leban Martins) how her father's books now contain more of him than his frail body; that the shelves reveal his personality.
That is, then, the down escalator. But, running contemporaneously, Sandra has a happenstance reunion with an old plutonic friend, Clément (Melvil Poupaud); a married man with whom she begins a deeply loving extra-marital affair. Clément is kind, but grieved by his deception. While their new bond is rendered with wonderful physicality and playfulness by Hansen-Løve, there remains a tension brought on by their subterfuge that repeatedly causes the love affair to falter. Clément is an island for Sandra. An incredibly important oasis of warmth and vigor away from the heartbreak of her father's decline. It's not unreasonable to suggest that one enhances the other, and that she finds solace in his arms or even, in a Freudian reading, a surrogate.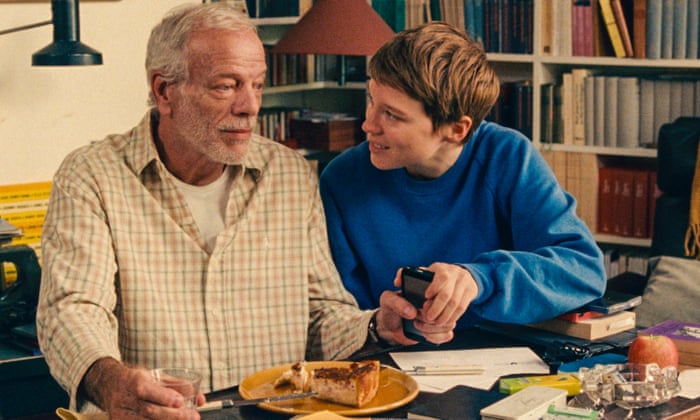 Hansen-Løve's cinema has consistently been preoccupied with the forward march of time, and the transitory nature of all things. Here, as in previous features, she renders this so deftly. It's in the scenes of travel. Sandra commuting by bus or by train. Hansen-Løve doesn't cut between places, but rather documents – however briefly – the journey from A to B. Such gestures paint a more complete picture of people moving through life. Moving forward through time. And yet One Fine Morning is also about nostalgia and reminiscence. It's very title is taken from the shakily written entries Sandra discovers in her father's journals. In an early scene Sandra translates at a commemorative event for WW2 veterans. There's a sense of the past inexorably slipping away in One Fine Morning. As much as Hansen-Løve is still keenly focused on our forward momentum, this film mourns what's lost in the process.
It's reflected further in the multi-generational aspect. We have Georg, elderly, muddled by his surroundings, triggered by music than conjures the past. We have Sandra; in the prime of her life, torn between moving forward and back by twin circumstances. And we have her daughter Linn, studying the stars and manifesting apparitious injuries. With this sense of constant movement instilled in the film and its edit, Hansen-Løve has us feel the mortality of all characters. And the morality of ourselves and the ones we love. I imagine watching One Fine Morning will trigger many check-in calls to aging parents. 
One might cite the more button-pushing depictions of aging and decline proffered to us by more provocative auteurs. Haneke's Amour. Noe's Vortex. Joyless horror shows. Unflinching in their passive brutality. Yet with her remarkably light touch Hansen-Løve eclipses them here. One Fine Morning is incredibly sympathetic, profoundly humane. Yes, there's a touch of the sentimental – there can't not be when you're consciously dealing with nostalgia – but it's so unforced. Long sections of the film might make our heart ache for Sandra and Georg, but then there's a lifting gift like the Christmas scene in the third act, or the sun-dappled finale, which radiates warmth and optimism in spite of the machinations of time that we can't abate. 
After the relative intellectual exercise of Bergman's Island, this feels like a resurgence of instinct and feeling from it's creator. An intuitive, possibly deeply personal expression. With the proviso that her 2018 feature Maya is still MIA for UK audiences, this might be Hansen-Løve's best film in years; a filmography not wanting for impressive highs as it is. The lightness of her touch is, as ever, exceptional. And in Seydoux she has found a talent equal to her own; a collaboration that suddenly seems long overdue and – as evidenced here – incredibly fruitful.